Digital Transformation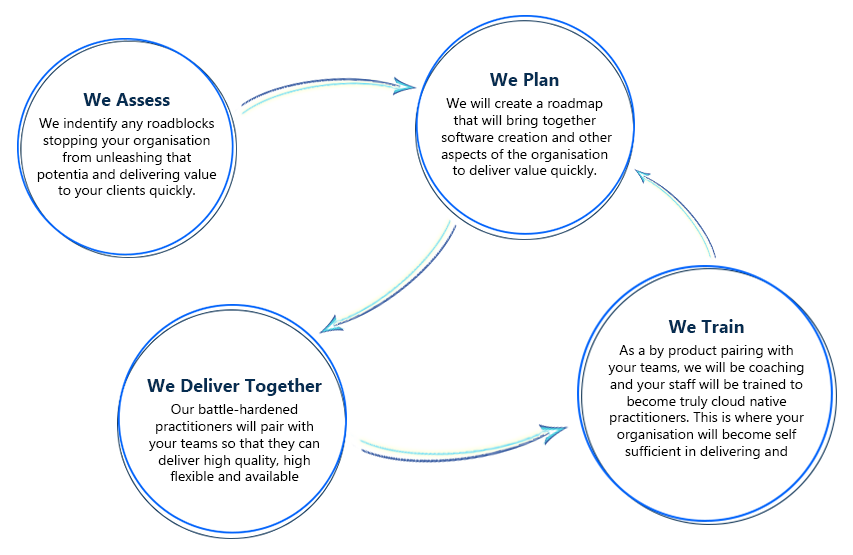 We look at the three different types of upgrade.
Technology
People
Process
We expose your employees to new technologies. Which will enable your staff to learn new skills and remove barriers to learning, such as fear, misunderstanding and confusion. Our battle-hardened practitioners will pair with your teams so that they can deliver high quality, highly flexible and available software that can deliver value quickly.
As a by-product of pairing with the staff we will not only be able to train them in technology but also in terms modern agile practices. And also inject and culture of self-organisation and continuous improvement and continuous learning.
We have extensive real-world experience leading and supporting people-process-technology transformation to cloud-native, finding and removing the delays associated with traditional software development, focusing instead on more engaged, collaborative teams, application velocity, maximising business value from technology, and creating differentiation at scale, quickly.
For a number of years, we have led and formed collaborative, connected, feedback and value driven self-organising teams, that are open to new ideas and are always looking for innovative ways continuously learn and improve. This experience has helped create and shape a self-sustaining digital culture for our clients.
Our Approach
Being Digital is far more than just using top technology. Organisation, Process, People and Applications/Services have to be more connected, collaborative, adaptive, flexible and diverse.
FWe are strong believers in the Feedback loops and small, quantitative improvements. Our process is simple, we start with initial assessment and then target the areas where we can get the most amount of benefit then we deliver that improvement, train people if need be as we want our clients to be able to maintain growth without us being bottleneck once we have achieved digital culture.
Assessment
Carry out an assessment of your organisation's capabilities and conduct a High-level GAP analysis of where our clients are in terms of digital values. We will concentrate on People, rocess and technology in this analysis and this will help us improve the digital culture of the clients.
We also realise that different departments, teams, applications, services or projects are at a different point in the digital journey at the same instance of time. We will, therefore, also identify for our clients where the bottlenecks are in the delivery value stream. This will provide us a good indication of where the quick wins are. In addition, this will also become a baseline for future efforts.
---